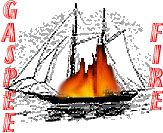 Gaspee Fire Home Page
This page will contain statistics,news and boxscores of the Gaspee Fire Baseball Club. The Gaspee Fire franchise is a member of the United States Retro League and has been since the 1961 season. The USRL is a 12 team league playing baseball with players of years past. The league started in the 1959 season and is currently playing 1970. The games are played using Strat-o-Matic software.
Gaspee has had a mostly average existence, hovering around .500. They were a playoff team in their inaugural season, losing to High Plains in the first round in 7 games. 1962-1964 were very average seasons for the Fire, but 1965 was quite a step down for the franchise (66-96 record). 1966 held some improvement for Gaspee, (76-86) but the real hope of contending was a year or two away. 1967 was a big disapointment slipping back to 73-89. 1968 was a great year for the Fire. They won 101 games and claimed their first ever division title. The playoffs were a success as well, bring Rhode Island a World Series title. (See Below for More) 1969 brought a second straight division title. The playoffs were a bit of a disapointment. Gaspee lost three of the first four. They fought back to force a game seven, but couldn't finish the job. They just missed a second trip to the World Series. The franchise record stands at (750-708, .511) as Gaspee embarks on its tenth season.
---
Recap of Gaspee's 1968 title
The Gaspee Fire were the 1968 USRL World Champions!!! Gaspee won the Western Division title with a 101-61 record. In round one of the playoffs Gaspee defeated the Melbourne Beach Mets 4 games to 1. Included in the series were two Gaspee extra inning wins. Game Three went to the Fire 10-6 in 21 innings. The deciding game 5 went to Gaspee in 11 innings.
The World Series was a seven game classic against the Death Valley Drivers. Home teams won all seven games. Gaspee took games 1,2,5 and 7. Game Six went to the Drivers 13-1, evening the series at 3 games apiece. Game Seven went twelve innings. Jerry Grote drew a two out walk. Roy White the became the toast of Rhode Island, tripling home Grote and winning the World Series!!
---
A brief note on the teams name and logo: In 1772, The schooner H.M.S. Gaspee was sent to Rhode Island to enforce the Stamp Act. On June 9,1772 while the Gaspee was chasing a colonists' boat for refusing to salute, it ran aground on a sand bar off Namquid Point (Warwick,RI). The schooner would be unable to move until high tide. Locals, angered by the activity of the Gaspee, organized an attack and took the crew prisoner. Speculation is that the Gaspee was tricked into pursuing the ship for the purpose of the attack. In the early morning hours of June 10th, the schooner was set afire causing the onboard gunpowder to explode.

---
Gaspee Fire Transaction History
1962--Traded Steve Bilko to Hollywood for Lee Maye
1966--Traded First Round Pick(4th overall)(Rick Monday) to Hollywood for their first round picks in 1966(9th overall)(Stan Bahnsen) and 1967(10th overall)(Joe Niekro).
--Traded Phil Ortega to Death Valley for their second round pick(22nd overall)(Mike Andrews)

--Traded third round pick(27th overall) to Melbourne Beach for Nelson Briles
1967--Traded Roy Face,Mike Marshall and 1968 4th Round pick to High Plains for Hoyt Wilhelm
1968--Traded Lou Piniella to Unadilla for Pete Ward and their second round pick in 1968(20th overall)(Mike Lum)
1969--Traded Tim Cullen and 7th Round Pick(1970) to Minneapolis for Jim Davenport
1970--Traded Don Money to Hollywood for Dick Bosman
--Traded Steve Blass,Ron Woods and 1971 1st Round Pick to Madison for Merv Rettenmund, Denis Menke and 1970 3rd Round Pick

---
Gaspee Won Lost Records

Click links to see seasonal stats.
             ----RECORD----  -------RUNS-------  -BAT AVG-  -HOME RUNS-              
		WON  LST  PCT    TEAM    OPP DIFF  TEAM  OPP   TEAM   OPP
GAS 1961US    92   70 .568     878    780   98  .266 .262    234   185
GAS 1962US    80   82 .494     758    769  -11  .250 .269    226   192
GAS 1963US    80   82 .494     668    696  -28  .246 .264    236   208
GAS 1964US    83   79 .512     712    670   42  .241 .254    223   196
GAS 1965US    66   96 .407     838    898  -60  .253 .288    241   184
GAS 1966US    76   86 .469     663    752  -89  .238 .271    191   176
GAS 1967US    73   89 .459     698    734  -36  .236 .278    196   125
GAS 1968US   101   61 .623     727    513  210  .247 .231    174   125
GAS 1969US    99   63 .611     859    613  246  .249 .240    213   129
             ---- ---- ----  ------ ------ ----  ---- ----  ----- -----
GAS TOTALS   750  708 .514    6801   6425  376              1934  1520

---
---
Links to other USRL websites