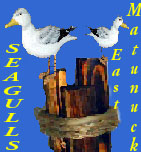 East Matunuck Seagulls



        After a slow start, the East Matunuck Seagulls are 60-36 and in firm control of their division. The club has matching 30-18 records at home and on the road. Moises Alou has paced the offense with a .369 batting average to go with 22 homers and 66 runs batted in. (in only 78 games) Jason Kendall is probably the teams offensive MVP to date having appeared in all 96 games, hitting .317 with 14 HRs and 48 RBI. He has also swiped 22 bases without being caught. Mike Cameron has been a big contributor as well (.300,20,58,17sb) while making only 3 errors in center. Todd Zeile may be the biggest surprise (.319,14,45) in only 55 games.
      The pitching has been excellent. Pedro Martinez and Greg Maddux each have 12 wins. Pedro leads the league with his 2.35 ERA and 216 strikeouts. Maddux has posted a 12-3 record with a 2.76 ERA. Oddly, he has given up more HRs(20) than walks (18). Paul Wilson has been great out of the pen going 5-1 in 26 appearances posting a 1.52 ERA. Closer Derek Lowe has been a disappointing with a 2-8 record and a 4.66 ERA. He has 16 saves.


     Pedro Martinez tossed a no hitter on July 16th vs Edinburgh. I was surprised to note that 3 other pitchers had not given up a hit over a nine inning stint this year in the Billy Goat. Chuck "Kittain" Finley, Denny Neagle and Kevin Appier have also done it. Not sure if the others were no hitters by strict MLB definition (win,shutout,and complete game).See the box score here:Pedro's no hitter box score


      East Matunuck is looking to add a little something to its team for the stretch run. We would be willing to move Konerko for a better player this year who struggled in 2001. Other players available include Travis Lee (mlc), Raul Ibanez(mlc), Randy Winn (mlc), possibly Frank Catalanotto, or Corie Koskie (though he'd require a third baseman in return.) Winn and Ibanez had better seasons than you probably would think. Anyone could be had if the deal improves the team enough for the current season. Needs include improvement at the 2b and ss position, a top slugger (hopefully at one of the corner infield positions) and possibly a closer better than Derek Lowe.
Previous Gulls News

---
Visit the Gaspee Fire of the US Retro League
Kent County Braves Homepage
Visit the Hub of my Strat Page